Safety Animation Napo Video Episode Page-13:
Chemical Risk at Work: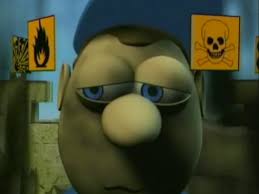 Napo is involved in a series of short sketches working with chemicals, including those that are irritants, flammable, corrosive, toxic or a danger to the environment. Each sketch is followed by a brief sequence showing how to prevent accidents by safe working practices.This film is suitable for all sectors and all levels of employees but especially for young people in training and work experience.The objective is to draw attention to the importance of labeling chemical products. Napo is confronted with using chemical substances. Six sequences show first the wrong way with the serious consequences then the right way by respecting the safety instructions. The film covers six of the nine safety symbols, and covers briefly the risk of explosives.
Chemical Risk at work- Scratch and Sniff
Click below link to download-Scratch and Sniff
Chemical Risk at work-Dangerous for environment
Click below link to download-Danger for environment