Work place traffic safety :
Introduction:
Workplace traffic management is an integral part of operations for many industrial sectors; including but not limited to the construction, marine and logistics industries.If workplace traffic is not managed well, it can lead to damaged vehicles properties as well as fatalities and/or serious injuries in the workplace and public areas.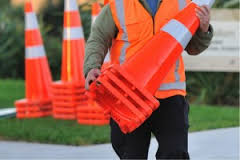 A Workplace Traffic Management Plan helps to effectively manage traffic and operation of vehicles at the workplace to minimize risks and hazards. The plan should be prepared by qualified WSH personnel and endorsed by senior management.
To create an effective Workplace Traffic Management Plan, management should first identify desired safety and health objectives. Suitable program and resources should then be established to achieve the objectives.
To establish the safety & health objectives for a workplace traffic management plan, the management should:
Conduct an initial status analysis of current workplace traffic management;
Carry out risk assessments on all workplace traffic and transport activities, and types of vehicles used;
Establish the measurement standards for performance monitoring; and
Evaluate the effectiveness of the plan.
There are eight elements that should be included in an effective Traffic Management Plan. They are (non-exhaustive):
Workplace Safety and Health (WSH) policy;
duties and responsibilities;
traffic rules and regulations;
risk management;
safe work procedures;
training;emergency response plan; and
incident investigation.
Workplace Safety and Health Policy:
Management's commitment to WSH is the most important factor in ensuring the success of any Workplace Traffic Management Plan. If your business's key activities include extensive use of transport or goods vehicle/s, a written WSH policy that clearly states the management's commitment and approach in workplace traffic management should be established and endorsed. This written policy should also be communicated to all levels of staff, contractors and vendors
Duties and Responsibilities:
The duties and responsibilities of personnel managing and implementing the Workplace Traffic Management Plan should be clearly defined for all levels of staff. Legal obligations, such as the WSH Act and its subsidiary regulations, must be taken into account when assigning duties and its responsibilities. More specific duties and responsibilities can be established by the individual in company to meet its requirements.
Workplace Traffic Rules and Regulations:
A set of written workplace traffic rules and regulations should be established for compliance by all levels of staff, vendors, contractors and visitors. The rules and regulations serve as a constant reminder of their obligations and responsibilities.
Legal requirements such as the WSH Act and its subsidiary regulations should be incorporated into these rules and regulations. More specific rules and regulations can be developed by the individual company to suit its requirements. The following points (not exhaustive) should be included:
Only allow authorized transport vehicles or personnel to enter workplaces;
Observe all traffic safety measures at workplaces;
Observe the notices, and safety or traffic signage displayed at workplaces;
Ensure that the designated pedestrian walkways are used;
Observe the safe speed limit signs displayed at workplaces;
Turn on the flashing warning light on the transport vehicles whenever they are in operation;
Do not load a vehicle beyond its safe working load;
Avoid reversing vehicles within the compound; and
Reverse vehicles only under the direction of a banks man or signaler.
Risk Management:
Good risk management comprises components such as communication, record keeping, implementation and review. Together with risk assessment, they form the risk management process Risk assessment, when carried out properly, can allow a better understanding of the risks at the workplace and their control measures. It is a key component of risk management.
Under the WSH (Risk Management) Regulations, every workplace, must conduct risk assessments for all routine and non-routine works. Risk assessment is the process of:
Identifying and analyzing safety and health hazards associated with work;
Assessing the risks involved; and
Prioritizing measures to control the hazards and reduce the risks.
Before conducting risk assessment, adequate preparation must be done. A risk assessment team should be formed, preferably comprising personnel from various levels in the work activity. In this case, drivers should also be part of the risk assessment team to provide insight on the challenges they face during the course of their work. Relevant information should be collated to facilitate better understanding of the work process.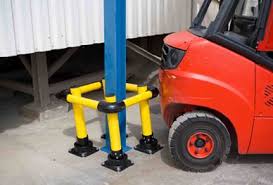 Safe Work Procedures:
Safe work procedures are any procedures for carrying out work safely. It also includes any procedure taken to protect the safety and health of persons in the event of an emergency.
After risk assessment has been carried out, SWPs should be implemented to manage safety and health risks. Other than emergency plans and safety precautions, it should also reiterate the importance of proper usage of PPE.
Training:
Safety and health training is important to equip staff with the required knowledge and skills to work in a safe manner. Management should identify safety training needs for their employees and work out a training plan. For traffic safety, it is important to ensure that drivers are familiar with the model of vehicles they will be operating. Hence, in-house training with support from vehicle's supplier is strongly recommended.
More examples of how pedestrians and vehicles can be kept apart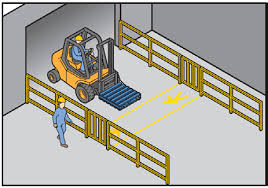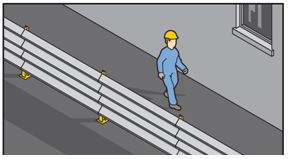 Temporary physical barriers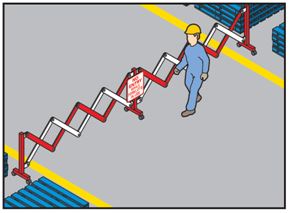 Walkway marked with lines and bollards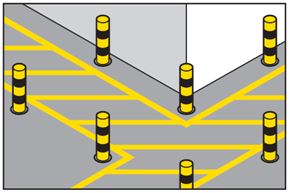 Pedestrian walkway in car park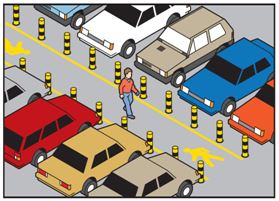 Factors Affecting Traffic Safety:
There are three main factors that contribute to traffic accidents, namely the
driver,
Usually, it is a combination of factors that leads to fatalities or damages. Hence, all three factors must be managed to prevent traffic accidents.
Driver:
Competency:
In general, drivers have two main duties. He operates a vehicle to transport goods from one location to another and he loads and unloads the goods.
Safe Driving:
All drivers must possess a valid Singapore driving license for the class of vehicle that he is required to drive. For more information on driving licenses. Only qualified and authorized drivers should be permitted to operate designated transport vehicles.
Drivers should receive proper training in the operation of the vehicles before they are authorized to operate them. Beside mandatory driving courses, drivers should also attend defensive driving courses offered by training centers. These courses inculcate drivers in safe driving habits, including the ability to assess the driving environment correctly, watch out for other drivers' behavior and stay focused when driving.
Safe Loading and Unloading:
To ensure safe loading and unloading, the operation should be carried out at a designated area such as a loading or unloading bay. The driver should follow the safe operating instructions laid out in the operation manuals of the respective transport vehicles.
STEP 1: Parking of vehicle
Park on firm and level ground; and
Ensure that parking brakes are engaged and all stabilizers or wheel chocks are properly positioned (see Figure 4).
STEP 2: Loading
Do not overload the vehicle;
Load the vehicle evenly as uneven loads can render the vehicle unstable; and
Loads must be suitably packaged.
STEP 3: Unloading
Before unloading, the recipient should check that the goods have not shifted during transportation. He should also ensure that the goods will not move or slid off when restraints are removed before commencing with unloading.
Habits and Behaviors:
Driving Habits
Organizations are encouraged to create a safe driving culture. A safe driving culture holds employees accountable for keeping themselves, other employees, public and customers safe; not only during the performance of their duties but also during off-the-job driving. It encourages drivers to drive in a safe manner and reduces costs due to accidents. A safe driving culture can be achieved through advocating good driving habits such as:
The function of a seat belt is to keep drivers and passengers in the vehicle when the vehicle comes to an abrupt stop. Wearing a seat belt before starting the vehicle can reduce the likelihood of death and serious injury (see Figure 5). In the event of a collision, the seat belt tightens to keep the driver in his seat and prevent the airbag from injuring him.
Keeping within speed limits
Speeding reduces a driver's ability to identify and react to his surroundings. Speeding increases braking distance, and increases the likelihood of a crash, resulting in loss of lives. Always follow the specified speed limit of the vehicle and of the roads.
Tailgating is an act of driving very close to the vehicle in front. It is dangerous because it gives the driver little time to react if the vehicle in front slows down or brakes suddenly. Tailgating may also make the driver in the front vehicle nervous. Vehicles must always be operated at a safe following distance.
Safe parking:
– Drivers should park their vehicles at designated parking areas. Parking areas should be level, firm, well-lit, well-drained and clearly marked;
– Drivers should ensure that their vehicles are properly parked with the brakes engaged, engines turned off, starter keys removed and load or equipment lowered and secured;
– For parking or stopping the transport vehicles on slopes, drivers should follow the previous step with the gear engaged (if safe to do so) and wheel chocks used, where appropriate; and
– "Failure to engage handbrake" alarm system should be installed in vehicles to remind drivers not to leave the cabin without engaging the handbrakes.
The following are safety measures (not exhaustive) to be observed to prevent overturning of transport vehicles:
Do not drive on steep slopes;
Do not drive on slippery surfaces such as oil patches;
Do not drive on soft ground, potholes or uneven terrain, curbs, steps or other edges;
Do not overload;
Do not load unevenly;
Do not drive too fast, especially around corners;
Do not use a transport vehicle for unsuitable tasks; and
Do not carry loads above the height limit; and
Find out traffic conditions in advance, where possible.
Avoid distracted driving:
The most common distraction for driver is the use of mobile phone while driving (see Figure ). The use of mobile phone while driving is inconsiderate and dangerous. It distracts a driver from the road and affects a driver's ability to control his vehicle. Drivers should not use mobile phones while driving. Drivers who wish to use their mobile phones should ask their passengers to make or receive calls on their behalf. If driving alone, drivers are advised to stop at the nearest car park to make or answer a call.
Health:
Operating a vehicle requires drivers to be alert, exercise good judgment and have reasonable physical ability. Other than driving, drivers may also be tasked to meet tight schedules, take care of passengers' safety or ensure that goods are not damaged. The general health standard of drivers must allow them to cope with the work requirements. It is also recommended that organizations promote the benefits and importance of adopting a healthy lifestyle to all its employees.
Driving forces drivers to sit in a constrained posture and may create significant stress to their necks, upper and lower backs. Prolonged driving may expose drivers to the risks of lower back pains or other musculoskeletal disorders (MSDs).
There are things that an organization can do to help drivers reduce the suffering from back pains or other MSDs.
As much as possible, try to vary work activities (e.g., good mix of driving and administrative work);
Drivers should take a short break every few hours (e.g., 15 minutes rest for every 2 hours of driving);
Drivers should stretch their bodies as often as possible;
Drivers should adopt good driving posture (e.g., sit straight and do not slouch); and
Drivers should adjust the drivers' seat, steering wheel, head support cushion and backrest to a comfortable position before driving.
Fatigue:
Fatigue is a state of tiredness leading to reduced mental and/or physical performance that can compromise workplace safety. The onset of fatigue while driving can decrease a person's alertness and compromise his or her reflex ability, judgment and decision-making. A fatigued driver will not only compromise his health and safety but also of those around him.
The best approach to prevent fatigue affecting drivers is to ensure that they have adequate sleep or rest (see figure 7). However, there are other methods that can slow down the onset of fatigue and reduce the risk. Some recommended good practices are listed here for consideration.
In terms of facility improvements, the following are recommended:
provision of adequate lighting;
provision of sufficient ventilation; and
provision of facilities for breaks or rest.
Administratively, the following are recommended:
Limit shift work to not more than 12 hours including overtime;
Plan shift schedule ahead of time and communicate to drivers;
Job rotation (e.g., 50% driving plus 50% administrative work);
Encourage drivers to take short and scheduled breaks to relieve fatigue due to monotony of driving;
Educate driver on the dangers and symptoms of fatigue; and
Install fatigue management technologies in vehicles.
Vehicle:
Choice of Vehicle:
The safest type of vehicle is one most suited for the job. Therefore, to ensure the safety of drivers, workers and public, choosing the right type of vehicles for the intended function is important.
Here are some useful pointers to look out for when choosing a vehicle for a task:
The vehicle must be able to withstand the weight from the cargo;
Appropriate type of vehicle should be used according to the type of loads; and
Vehicle must not exceed the maximum laden weight when carrying the load.
Maintenance:
No matter how competent a driver is, he and his passengers will not be safe unless the vehicle is in good condition. Organizations should ensure that vehicles are in a condition for safe operation by having the vehicles properly maintained during suitable intervals. The driver should also perform daily checks on the vehicle before operating it. If checks are not conducted properly, the vehicle could fail at a critical moment, and may lead to serious accidents.
Vehicle servicing regime:
The maintenance regime of the vehicle should closely follow the manufacturer's recommendation. A well-maintained vehicle is more likely to work better and last longer. The vehicle manufacturer should also provide advice or information regarding its maintenance schedule and requirements. Maintenance requirements and regimes vary widely from one vehicle to another.
Daily per-operational check:
Conducting daily vehicle checks is a simple and useful way to spot potential risks or defects before vehicles are operated (see figure 8). Companies should have a routine and system of daily checks in place to ensure that vehicles are in good working condition at the start of each working day or shift.
Safety Devices and Technologies:
There are a number of safety devices and technologies to improve or monitor different aspects of vehicle safety, such as:
Reverse sensors and camera:
As a driver's natural line-of-sight looks naturally to the front, it is ideal if the need to reverse vehicles (especially heavy vehicles) can be kept to a minimum. Other than the side-mounted and rear-view mirrors, vehicles can also be fitted with reverse sensors and reverse cameras to assist drivers while they are reversing the vehicle. Reverse cameras enhance a driver's view of the rear while reversing. While reversing, reverse sensors will signal (e.g., a beeping sound) drivers when the rear of the vehicle is near objects or persons.
Speed Limiter:
A speed limiter is installed to restrict the maximum speed of a vehicle without affecting its other features. A vehicle installed with a speed limiter will limit the amount of fuel fed to the engine, thus controlling the maximum speed that it can travel.
Fleet Management Software:
Fleet management software is a computer programmer which allows companies to manage their vehicle fleet through a complex information system. Specific tasks that the fleet management software can assist in include operations such as vehicle procurement, maintenance and disposal.
One major feature of a fleet management software is its real-time vehicle tracking ability. Some of the more relevant functions of the software that may be useful to an organization include:
vehicle's traveling speed (ensure that vehicle does not exceed limit);
vehicle's location;
driver's behavior (such as monitoring a driver's fatigue and concentration level when he is driving);
occurrence of an accident; and
vehicle's idling speed (increase productivity and reduce fuel wastage).
Driver Fatigue Management Technologies:
One example of a driver fatigue management device is the fatigue management camera. This device will monitor a driver's eyelids, head orientation and driver's concentration level. All this information can be downloaded and tracked by a supervisor or management.
Night Vision Enhancement:
Driving at night can be hazardous as visibility is significantly reduced. To assist drivers who are driving at night, organizations can make use of night vision enhancement technology. The technology uses infra-red to warn a driver in advance of any object (e.g., animals, pedestrians and cyclists) ahead of the vehicle. This technology can provide drivers with more reaction time thus reducing the occurrence of accidents. Such systems can be retrofitted on vehicles.

Environment:
Within Premise:
Workplace Traffic Layout or Routes:
The safety of the drivers and people on the premise are the most important part of a Workplace Traffic Management Plan. Therefore, workplace traffic layout or routes should be planned based on risk assessment conducted on the movement of pedestrians and transport vehicles at workplaces. Potentially hazardous points or areas that pose a higher risk of collisions between pedestrians and transport vehicles, or transport vehicles and buildings or facilities, should be identified so that necessary control measures can be put in place.
The following pointers are useful for planning layout, routes, facilities and signage at workplaces:
The perimeter of all workplaces involving the use of transport vehicles should be fenced to keep out unauthorized access. People who need to enter the premises should be directed to the appropriate entry point(s) to facilitate effective control on movement within the workplace traffic area; and
All designated workplace areas for traffic routes, storage areas, passageways and pedestrian walkways should be clearly marked with appropriate floor lines, or traffic or safety signs.
The following points (not exhaustive) should be included in traffic layout and route planning for workplaces:
Maintain a safe distance from transport vehicles during use as stated in the operations manual; and
Enhance driver's visibility by minimizing intersections, traffic cross-flows and blind spots. Convex mirrors should be erected to eliminate blind spots (see Figure 10).
Keep pedestrians out of the path of transport vehicles by setting up physical barriers to barricade the workplace;
Draw highly visible traffic lines (see figures 11 and 12) and/or use signage to differentiate the pedestrian walkways from the work areas and provide operational personnel stationed at these areas with reflective vest(s);
Provide and maintain adequate lighting and good ground conditions along internal roads and at workplaces;
Provide highly visible markings and/or signage to warn against any obstruction, low height, doorways, edges or drains at workplaces;
Provide pedestrian crossings where required; and
Erect speed limit signs and boundary lines at the traffic operational areas of the workplace.
Visibility:
Good frontal visibility allows drivers to spot and avoid hazards with ease. Stipulated speed limits and safe stopping distances at work areas will help drivers maintain good visibility even when they are changing directions, thus avoiding hazards. Other factors affecting visibility are illumination, dust levels, weather conditions, height of vehicle above road level and the positioning of the vehicle's windows.
Good visibility at junctions and around bends is vital to safety as it allows drivers and pedestrians to spot and avoid potential hazards. Avoid creating sharp or blind bends where possible. If blind spots are inevitable, consider measures such as mirrors to aid vision around corners.
When visibility at a blind spot cannot be improved for safe driving, convex mirrors, road humps, stop signs and suitable traffic signals should be installed. Alternatively, a one-way traffic system or entry prohibition should be considered for implementation in the area.
Reversing:
Accident statistics revealed that a substantial number of fatalities and cases of damage to vehicles, equipment and property were caused by vehicles reversing at workplaces.
The most effective way of reducing such risk is elimination. However, if the need to reverse at a drive-through loading or unloading bay is unavoidable, then the traffic route at this area should be re-organized into a one-way traffic system.
For sites where reversing is unavoidable:
Reversing areas should be planned, clearly marked, and made visible to drivers and anyone else in the area;
Non-essential personnel should keep clear of the area;
Portable radios or suitable communication systems should be used;
Install vehicle reversing alarms and keep them in good working order. Alarms should be loud and distinct enough so that they can be heard over background noise;
Use visible warning systems such as flashing warning lights;
Fit vehicles with other safety devices such as "sensing" or "trip" systems, which either warn the driver or stop the reversing vehicle when it comes too close to or into contact with an obstruction;
Install physical barriers or buffers in highly visible colors in suitable positions at loading or unloading bays;
Paint lateral white traffic lines on the floor to help the driver position the vehicle accurately. In areas where vehicles need to reverse up to structures or edges, barriers or wheel stops can be used to warn drivers when they need to stop;
Use a trained signaler or banks man to assist in directing the vehicle at the workplace when the rear-view is compromised and where rear-view aids are unavailable during reversing; and
When in doubt, the driver should alight from the vehicle for to assess the situation better. However, before he alights from the vehicle, he should ensure that traffic is clear and safe.
The visibility and safety for drivers and pedestrians can be enhanced by:
– increasing the space allowed for reversing;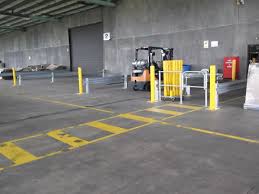 – installing fixed mirrors;
– keeping vehicle mirrors clean and in good working condition.
Traffic Signs and Signage's:
Suitable workplace traffic or safety signs should be used to warn or inform driver and pedestrians at workplaces. See Figure 13 for some common traffic or safety signs used at workplaces.
In general, workplace traffic or safety signage can be summarized as follows:
Use route markings to give instructions to drivers (e.g., "SLOW") and indicate traffic lanes, route edges, priority at junctions, stop lines, pedestrian crossings, and so on;
Use warning signs to indicate hazards along the way. Traffic lights, speed sensors and flashing warning signs can be used to control traffic flow and speed;
Use white traffic markings to regulate traffic flow and yellow ones for parking;
Ensure that signs are prominent so that people can see them early and take necessary steps to avoid the hazards; and
Use warning signs where overhead clearance is limited. Reflective or illuminating signs should be used to enhance their visibility in darker areas.
Speed Limit:
Limiting vehicle speed is an important measure in traffic control. The best way to limit vehicle speed is to use fixed features (e.g., traffic calming features) to prevent speeding. Some examples include installing road humps and "rumble" strips, raising kerbs or chicanes, and narrowing routes with the use of bollards.
It is important to note that the use of wrong speeding prevention features can sometimes increase risk by affecting the stability of vehicles or rendering loads less-secure. Hence, traffic calming features such as road humps must be installed with discretion.
Companies should assess the various traffic calming features available and select the appropriate features specific to the needs of the work area. Another point to note is that these features and measures should be lit or made reflective to ensure that they are made clearly visible.
Speed limits should be determined and implemented at the workplace by taking the following factors into consideration:

traffic routes or layout of work area;
weight and type of loads being transported;
work activities being carried out at the workplace; and
To decide an appropriate speed limit, consider the route layout and road usage at the workplace. For example, a lower speed limit would be appropriate where pedestrians are present or where fork-lift trucks and road-bound vehicles share the roadway. Different speed limits should apply for different work areas depending on the various considerations.
Housekeeping:
All workplaces including traffic and pedestrian routes should, as far as reasonably practicable, be kept free from obstruction and anything that may cause slips and falls (see figures 14 and 15). Spilled loads, anything that falls from a transport vehicle, used packaging and anything else that poses a falling or tripping hazard should be removed promptly.
Lighting:
Adequate lighting should be provided for all workplaces such as internal roads, junctions, pedestrian walkways, loading or unloading bays, and so on.
Situations may require additional measures to ensure adequate lighting. For example, lighting placed at the center of loading or unloading bays may be blocked by tall transport vehicles. To solve this, additional lights should be placed between the bays to ensure sufficient lighting.
Lighting should be strategically placed such that they do not affect a driver's vision when reversing into the work area either directly or indirectly via their mirrors.
There should not be sudden changes in lighting levels between different work areas – lighting levels in the internal and external areas of the work area should not contrast sharply. Gradual changes in lighting levels will allow the eyes to adjust safely.
Permanent or Mobile Ramp:
The following requirements are to be considered when using a ramp:
Ramp is of adequate width and strength;
The gradient of the ramp used does not exceed what is permitted under the operational manual of transport vehicles used;
Ramp surface has good traction even in wet weather; and
Ensure that a proper securing mechanism is in place if a mobile ramp is used.
On-the-road:
Before a driver embarks on his journey, he should conduct a per-operation check on his vehicle to ensure that it is in a good working condition. He should check that the vehicle's safety devices (e.g., horns, lights, reflectors, reversing lights, alarms and brakes, and so on) are provided and in good working condition before use. He should also check the weather and traffic condition in advance.
When on the road, the competency of the driver and his interaction with his environment is important.
Weather:
The following are some tips that an organization can use to educate drivers when they drive in adverse weather conditions:
Stay alert and focus while driving;
Look out for other fast moving vehicles, foreign objects on the road or other road conditions;
Drive at a slower speed to counter hydroplaning (thin layer of water formed between tires and road surface);
Ensure that windscreen wipers are always in good working condition;
Keep a wider distance from the vehicle in front as longer braking distance may be required
Turn on low beam headlights; and
Stop vehicle in an appropriate and a safe manner if the situation requires.
Traffic Condition:
When drivers are on public roads, they may be faced with different types of traffic conditions. However, some of these road conditions are beyond the drivers' control, for instance, faulty traffic lights, road works, closure of certain roads for a particular event, or when other road users speed or change lane without signalling. These traffic conditions may pose a hazard to drivers.
Preventive measures can be taken to minimize risks arising from adverse traffic conditions:
Plan the route of travel. Consider factors such as shortest versus safest distance to destination, lane width, height limits and need to drive near areas where additional attention is required (e.g., schools, hospitals, home for disabled and old folks' home);
Remind drivers to keep a constant look out for other drivers and road users while driving;
As far as possible, plan schedule according to drivers' familiarity of the routes;
Always check traffic congestion, roads works or road closure online before the start of the shift; and
Ensure that drivers are trained in defensive driving.
There may also be other situations such as traffic accidents that may cause traffic congestion. Together, these situations will cause frustration in drivers resulting in dangerous driving behaviors.
To avoid traffic congestion, companies can consider implementing the following:
Plan deliveries during non-peak hours, where possible; and
Plan for alternative routes.
Surface condition of roads can be a hazard as well. Examples of road-surface related hazards include potholes, foreign objects on roads or spillages of substances on roads. It might be difficult for drivers to avoid these hazards.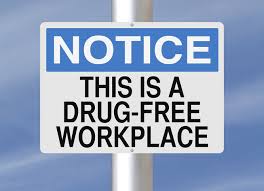 Companies can advise their drivers to adopt the following recommended good practices to avoid hazards posed by poor road surface conditions:
Drive within speed limit and slow down if the situation requires;
Remain alert and keep a lookout for road surface hazards; and
Do not multi-task while driving to ensure sufficient reaction time.
Some examples of workplace traffic signage's
Click the below link to download workplace traffic safety documents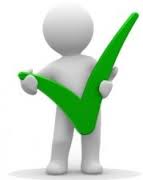 Work place traffic safety - Traffic control measure check sheet
Work place traffic safety - Hazards check sheet