Dos and Don't s- Fire safety- Industries: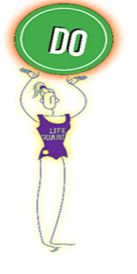 • Store flammable liquids gases, solvents, chemicals in stable racks, correctly labeled.
• Keep chemicals in cool and dry place away from heat.
• Where hazardous chemicals are used / stored, ensure adequate ventilation and prohibit smoking.
• All receptacles for waste should be emptied at regular intervals.
• Welding /Cutting jobs should be carried out under strict supervision.
• Before welding operation, all traces of flammable material must be removed to a safe distance.
• Good House Keeping must be ensured.
• Keep all machinery clean and lubricate it to avoid friction and overheating.
• Faculty electrical appliances should be repaired / replaced immediately.
• Switches and fuses should conform to correct rating of circuit.
• Keep smoke/Fire Check doors closed.
• Keep means of escape clear of obstructions.
• Emergency organization must be setup.
• Impart elementary firefighting training to occupants.
• Fire Rescue drills should be carried out at regular intervals.

• Don't smoke in prohibited areas.
• Don't plug too many electrical appliances in one socket.
• Don't paint fire detector/sprinkler heads .
• Don't place obstruction in means of escape.
• Don't use damaged cords and avoid temporary connections.