Dos and Don ts -Fire safety -High rise building: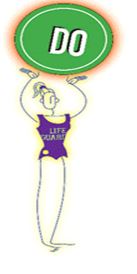 Good House Keeping must be ensured.
1. Always use ashtrays while smoking and deposit smoked butts in them after extinguishing.
2. All receptacles for waste should be emptied at regular intervals.
3. Faculty electrical appliances should be repaired/replaced immediately.
4. Switches and fuses should conform to correct rating of circuit.
5. Welding /Cutting jobs should be carried out under strict supervision.
6. Keep smoke/Fire Check doors closed.
7. Keep means of escape clear of obstructions.
8. Fire Rescue drills should be carried out at regular intervals.
9. Impart elementary fire fighting training to occupants.
10. Emergency organization must be setup.

1. Don't dispose off lighted cigarette ends carelessly.
2. Don't plug too many electrical appliances in one socket.
3. Don't paint fire detector/sprinkler heads.