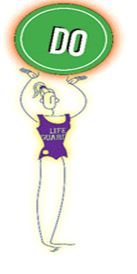 Do be co-operative if asked by a neighbour to reduce noise.
Do keep the hi-fi level down (particularly the bass). If you must turn it up, use headphones.
Do avoid putting speakers on party walls (or on the floor in flats). Place them on mats or cupboards.
Do realize that your pleasure should not lead to your neighbor's distress.
Do remember that noise and vibration transmits easily through walls and floors.
Do be aware in a flat or maisonette that your floor may be someone Else's ceiling. Carpets and heavy curtains should help to absorb sound.
Do ensure another key holder can be called to deal with house or car alarms.
Do carry out noisy DIY work during the day. Complete work as quickly as possible and let your neighbors know when you will finish.
Do tell your neighbors if you are having a party and tell them when it will finish.

Don't carry out noisy DIY work after 8pm or before 8am on weekends, and if possible never on Sundays. Remember that drilling and hammering are particularly disturbing.
Don't play music at a level that annoys your neighbors in their own space. Keep the bass level down.
Don't take a radio or hi-fi speakers outside - use headphones.
Don't have late, loud parties.
Don't use domestic appliances late at night. (such as vacuum cleaners or washing machines).
Don't leave dogs alone for long periods of time and try to minimize their barking.
Don't allow children to play loudly. If you live in a flat, don't allow children to jump about on the floor in a way that disturbs the neighbors below.
Don't sound horns, slam car doors or rev engines late at night.
Don't slam doors at any time, including kitchen cupboards.
Don't forget your neighbours have a right to peace and quiet as much as you do!