Dos and Don ts - Heart failure :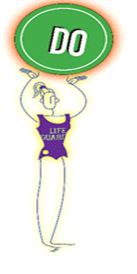 Avoid salt in your diet, at the table and in your canned or processed foods.
Keep as active as you can.
Take all your medicines as directed.
Weigh yourself frequently and keep a weight diary – increasing weight can be an early sign of worsening heart failure.
Report any change in symptoms to your doctor,
Drink alcohol only in moderation or not at all if your doctor directs.
Learn about your condition.
Control other cardiac risk factors and conditions.

Eat a lot of salt (salt leads to fluid retention).
Drink excessive fluids — in general no more than 6-8 cups of fluid/day.
Skip your medications or adjust them without the direction of your physician.
Take over the counter medications, particularly anti inflammatory agents, without alerting your physician.