Dos and Don ts - Fire safety :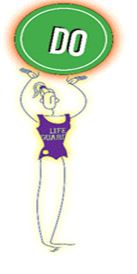 1. Escape first, then call for help.
2. Develop a home fire escape plan and designate a meeting place outside.
3. Make sure everyone in the family knows two ways to escape from every room.
4. Plan two exit from the room/home.
5. Practice feeling your way out with your eyes closed.
6. Remember to practice a home escape plan frequently with your family.
7. Keep escape routs clear.
8. When you come to a closed door, use the back of your hand to feel the top of the door, the doorknob, and the crack between the door and door frame to make sure that fire is not on the other side. If it feels hot, use your secondary escape route. Even if the door feels cool, open it carefully. Brace your shoulder against the door and open it slowly. If heat and smoke come in, slam the door and make sure it is securely closed, then use your alternate escape route.
9. Look for combustible liquids like gasoline, lighter fluid, and paint thinner that may have spilled. Thoroughly clean the spill and place containers in a well-ventilated area.
10. Keep combustible liquids away from heat sources.
11. If your home has sustained flood or water damage, and you can safely get to the main breaker or fuse box, turn off the power.
12. Assume all wires on the ground are electrically charged. This includes cable TV feeds.
13. Use the appropriate sized and type power cords to carry the electric load. Overloaded cords can overheat and cause fires.
14. Be aware of and avoid downed utility lines. Report downed or damaged power lines to the utility company or emergency services.
15. Remove standing water, wet carpets and furnishings. Air dry your home with good ventilation before restoring power.
16. Have a licensed electrician check your home for damage.
17. Smell and listen for leaky gas connections. If you believe there is a gas leak, immediately leave the house and leave the door(s) open.
18. Never strike a match or operate electrical switch Any size flame can spark an explosion.
19. Before turning the gas back on, have the gas system checked by a professional.
20. Follow the manufacturer's instructions and guidelines when using generators.
21. Use a generator or other fuel-powered machines outside the home. CO fumes are odorless and can quickly overwhelm you indoors.
22. If there is a fire hydrant near your home, keep it clear of debris for easy access by the fire department.
23. In case you receive burn injuries pour cold water on the affected part of the body.
24. Learn operation of firefighting equipment installed in your premises.

1. Never stand up in a fire, always crawl low under the smoke and try to keep your mouth covered. Never return to a burning building for any reason; it may cost you your life.
2. Never go back into a burning building for any reason. Teach children not to hide from firefighters. If someone is missing, tell the firefighters. They are equipped to perform rescues safely.
3. Do not secure open fire/smoke check door open as they limit the spread of fire/smoke when in closed position.
4. Never run cords under rugs or carpets where heat might build up or damage to a cord may go unnoticed.
5. Never connect generators to another power source such as power lines. There verse flow of electricity or "back feed" can electrocute an unsuspecting utility worker.
6. Never overload electrical circuits by using multi-plug.
7. Do not wear loose and synthetic clothing while working with gas burner/electric heater.
8. Do not forget to turn-off gas cylinder before going to bed.
9. Do not park your vehicle or store any item to obstruct the access to fire fighting facilities provided in your premises.
10. Do not hide any information concerning hazards in the premises make them known to all.
11. Do not race with fire fighting or any other emergency vehicle and give them way to reach faster to the scene of accident.
12. Do not temper with firefighting equipment in your premises.
13. Do not crowd the fire accident site as it may hamper fire fighting and rescue operations.
14. Do not ever hesitate to call the Fire Service in times of emergency however minor that may be.