Dos and Don ts - Respiratory Protection: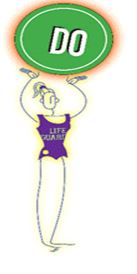 • Do implement Engineering Controls to reduce/control airborne hazard before resorting to Respiratory Protection.
• Do get a Medical Evaluation at the University .
• Employee Occupational Health Clinic (UEOHC) prior to wearing a respirator. • Do get quantitatively Fit Tested by EHS staff prior to using a respirator and ANNUALLY thereafter.
• Do receive annual training and be able to demonstrate why a respirator is necessary and how improper fit, usage, or maintenance can compromise respirator effectiveness.
• Do read and understand the respirator manufacturer's instructions with respect to maintenance, cleaning and care, limitations on use, and cartridge/canister replacement schedule.
• Do understand what contaminants and hazards you may be exposed to and ensure you are wearing the proper Respiratory Protection.
• Do know the capabilities and limitations of your respirator and what to do in an emergency situation.
• Do perform a user seal check (both positive and negative pressure tests) every time you put on your respirator.
• Do Inspect, Clean, and Sanitize respirator prior to and after each use and store in a clean, dry container/bag.
• Do use a minimum of Grade D breathing air for Supplied Air Respirators (SAR).
• Don't wear a respirator that you have NOT been Fit Tested for and approved to wear.
• Don't wear a tight-fitting respirator if you have facial hair growth between the face-to-face piece seal. Loose-fitting Powered Air-Purifying Respirators (PAPR) should be worn by employees with facial hair.
• Don't use a respirator, filter, cartridge, or canister that has NOT been certified by NIOSH.
• Don't wait until you smell a gas or vapor to change your chemical cartridge/canister.
• Don't remove your respirator in a contaminated environment.
• Don't use a respirator that is damaged or defective.
• Don't attempt to repair punctured or deformed face piece.
• Don't store a wet respirator in an air tight container. Always thoroughly dry respirator prior to storage.
• Don't use an Air-Purifying Respirator (APR) or an airline respirator in an atmosphere that is oxygen deficient or Immediately Dangerous to Life and Health (IDLH).
• Don't enter an unknown environment without a Self-Contained Breathing Apparatus (SCBA).