Dos and Don ts- Materials Handling: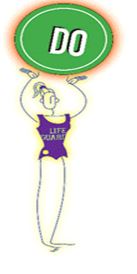 Stretch and get warmed up before performing manual handling tasks.
While carrying out manual handling tasks, beware of how your body is aligned.
Prepare for the task by removing obstacles in your path and by sizing up the load.
Maintain neutral postures for different body parts as much as possible. …
Be close to the load you are handling. …
Bend your hips and knees instead of bending your back. Keep your low back locked in its natural arched position.
Pivot or move your feet instead of twisting or leaning your body to the side.
Be well balanced by keeping your feet as wide as your shoulders. …
Alternate your work tasks throughout the day whenever possible.
Recognize early signs of muscle fatigue, and stretch, change position or change your task. …
Straighten up frequently and stretch your back backwards, if you cannot avoid bending over. …
Wear comfortable, cushioned and well supportive shoes.
Get help if the load is too bulky or heavy.
Have one person direct the lift in a team lift.
Push a cart rather than pulling it. …
Avoid lifting or carrying by using mechanical help such as carts, hand trucks and forklifts whenever possible.
If using adjustable mechanical aides, adjust the height of the cart or table to be level with the task height. i.e. If moving from waist height loads, set cart or table to same height …
Take the time to develop safe working habits by thinking about your body mechanics and the task at hand before tackling it.
Keep yourself in good physical condition.

Wait until you feel pain or discomfort to stop an activity.
Lift, carry, push or pull a load with your back bent or stopped over.…
Twist or lean your body to the side while performing a manual-handling task.
Handle a load too far away from you.
Over reach when moving an object from a high shelf.
Lift or carry a load that you cannot handle safely.
Perform the same task for more than 30 minutes without a brief interruption.
Complain if you haven't done all you can to work in comfort.