Overview:
Aerial lifts are commonly used in construction, inspection, athletic events and repair services to lift University employees to an elevated work position. Proper operation and use of aerial lifts can make completion of tasks at elevation, safer and more efficient. However, unsafe use, operation and aerial lift work practices can result in serious injury. This program has been developed due to the hazards associated with improper use and the concern for the safety of individuals in and around this type of equipment. In addition, this program outlines general, operating, maintenance, inspection and training requirements governing safe aerial lift use.
Operate Aerial Lifts / Elevating Work Platforms must:
1. Select and then purchase or rent appropriate equipment for job tasks based upon an work environment and job-task hazard analysis,
2. Train and license personnel who operate their specific type of owned / rented equipment,
3. Conduct documented safety inspections and preventive maintenance of the equipment,
4. Assure operators adhere to specific safe-work practices whenever using these types of powered industrial equipment,
Definitions:
Aerial Device: Any vehicle mounted or a self propelled device that is telescoping extensible, articulating, or both, and is primarily designed to position personnel.
AL / EWP: Acronym for "Aerial Lift/Elevating Work Platform"
Boom: An elevating member, the lower end of which is so attached to a rotating or non-rotating base that permits elevation of the free end in the vertical plane.
Counter Weight: The rear section or area of the lift which is usually made of solid steel, and/or combination of steel and the weight of the battery on electric lifts, that counter balances the boom leverage and basket load.
Data Plate: Manufacturer"s equipment specification and information data, which includes basket load rating/lift capacity, lift heights, vehicle weight, and vehicle attachments. This plate is required to be affixed to all Aerial Lift Equipment by regulatory code. This is the vehicle operator"s primary source of basic information about their vehicle for safe-work and use planning.
Emergency Lowering Means: Any elevating work platform equipped with a powered elevating assembly, and having a platform height exceeding 60 inches, must be supplied with safe means of lowering the basket or platform during an emergency or malfunction.
Fall Protection: An approved full-body safety harness with lanyard is to be worn at all times and attached to a secure anchor point when drivers or personnel are using a boom-type lift or vehicle mounted lift. Fall protection must also be worn when using scissor lifts on uneven surfaces or near locations with tip-over hazards.
Guard Rails: Railing around the perimeter of the work platform. This railing consists of a top rail between 39" – 45" with a mid-rail. Units with the top rail less than 39" must have fall protection in use to operate.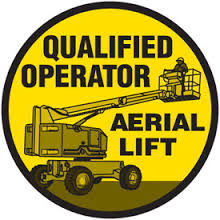 Lower Controls: Operating controls located on the base of the unit which can be switched to override the basket or platform control during an emergency.
Mast: Part of the lifting mechanism to which the hydraulic lift cylinder or worm drive is attached that supports the basket as it is lifted up and down.
Out Riggers: Extendable legs that are either manually set in place or, in some cases, hydraulically extended to give added stability to the unit base.
Platform: Any personnel carrying device (bucket, basket, cage, stand, tub, or equivalent) which is a component of an aerial device.
Upper Controls: Operating controls located on the basket or work platform of the unit. These controls can only be overridden with the operator"s permission or in case of an emergency.
Requirements:
OSHA Standard 29CFR 1910.68 (Powered Platforms, Man lifts, and Vehicle-Mounted Work Platform)
OSHA Standard 29CFR 1926.453 (Aerial Lifts)
ANSI/SIA A92.6 – 2006 (Self-Propelled Elevated Work Platforms)
Types of Aerial Lift/Elevated Work Platforms
Articulating Boom Lift :
An aerial device with two or more hinged boom sections.
An articulating boom lift is a type of crane that uses hydraulic cylinders to rise and lower and allows a driver to maneuver the boom in any given direction directly from the work platform without lowering the basket. The articulating boom lift is specifically made with at least two boom sections that are hinged and it unhinges at certain points, this makes reaching higher elevations easier.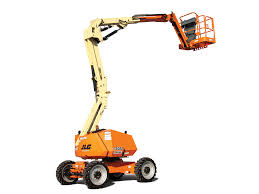 Articulating boom lifts typically operate with an electric motor or internal combustion as their powers source. It can not only rotate 360 degrees, but also access spots higher than most straight or telescoping boom lifts. They are narrow enough to be maneuvered easily through aisles and crowded work areas and are often found being used in construction, landscaping and plant maintenance.
Note: Fall Protection is required when operating this Lift.
Elevating Work Platform :
A device designed to elevate a platform in a substantially vertical axis. This device is stationary once setup and cannot be moved. Aerial or Personnel lift is an aerial lift that combines the portability of a ladder with the stability of an aerial work platform.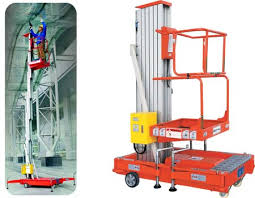 Simple to set up and easy to roll through doorways with a rigid vertical mast and leveling jack that offer stability for the user, the vertical mast raises the work platform to the desired height. Reaching heights of 47 feet and lifting up to 300 lbs, these personnel lifts are more stable than a ladder. It is ideal for indoor use and is suitable for fragile surfaces.
Note: Fall Protection is not required when operating this equipment, but is highly recommended.
Extensible Boom Platform :
An aerial device (except ladders) with an extensible boom. Telescopic booms with personnel platform attachments are considered to be extensible boom platforms. If you are looking for a boom lift with an extended reach capability then a telescopic boom lift is right for you.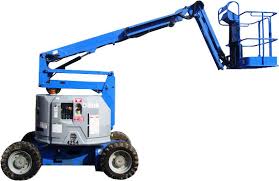 Operable from the work platform, even when extended, some telescopic boom lifts are equipped with a jib that provides extra reach and range. Reaching up to 140' and offering a greater horizontal outreach than any other type of aerial platform, these boom lifts are often used in construction and industrial applications such as road building, bridge work, painting, and landscaping.
Note: Fall Protection is required when operating this equipment.
Scissor Lift :
A device designed to elevate a platform in a substantially vertical axis. This device can also be driven by an operator inside the work platform and is generally designed to carry more than one person.
Also known as a table lift, a scissor lift is an industrial lift that has been modified for retail and wholesale setting. Powered by hydraulics, diesel or an electric motor, this lift will reach anywhere from 21 to 62 feet. It is basically a platform with wheels that acts like a forklift.Portable and effective, this is a lift is useful for completing tasks which require speed and mobility.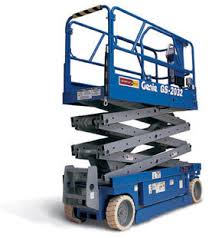 The scissor lift is unique in that it doesn't use a straight support to raise workers into the air, instead, the scissor lift platform raises when the linked, folding supports underneath it draw together, stretching it upward. The scissor lift's design keeps it from traveling with a constant speed, instead traveling faster in the middle of its climb and slower as it elevates. It can be seen in nearly all manufacturing and production workplaces, including construction, assembly, and vehicle repair.
Note: Fall Protection is not required when operating this Lift, but is highly recommended.
Trailer Mounted Lift :
A device that can be towed by a vehicle to a work site, then un-hitched. These units have extendable or folding outriggers to give stability while being operated. These are compact cranes that can lift up to 30,000 lbs. Designed for both indoor and outdoor job sites, these lifts feature telescoping booms and a load deck for material handling.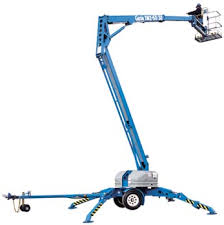 They are made for the work place and are self propelled, usually capable of picking up a load and traveling with it. The crane is equipped with a flat deck that is designed to be used as a carrying surface they are perfect for lifting applications requiring a compact, low-profile crane that will clear overhead obstructions and maneuver in tight spaces.
Note: Fall Protection is required when operating this Lift.
Vehicle Mounted Lift :
These devices typically have a Bucket in place of a basket, which is designed for one person. Vehicle must have the brakes set, wheels chocked, and outriggers in place while operating this device. Also Frequently used by contractors due to their lightweight structure and maneuverability, they are ideal for congested job sites.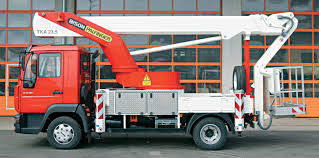 As the name states, tow able boom lifts are tow able, easily transportable and ready to use in minutes. Easy to maintain due to having less parts,they are easy to break down. Most have an articulating boom, but some models have a telescopic arm. They are light weight enough to use on lawns, slate, or gymnasium floors and are perfect for home renovations and property management needs.
Note: Fall Protection is required when operating this Lift.
Operating Procedures / Hazard Identification and Controls:
Prior to operation at the beginning of each work-shift, Operators must review and assess the following equipment/work area conditions:
1. Review work area for hazards, and remove/control them prior to operation.
2. Always conduct an environmental hazard assessment prior to selecting/using AL/EWP equipment.
3. Only use AL/EWP equipment designed to safely work in the work-area conditions observed.
4. Review operating instructions, warnings, and precautions for the types of AL/EWP being operated.
5. Prior to operation at the beginning of the work-shift, inspect and document the equipment"s proper function of controls and instrumentation. Do they operate correctly?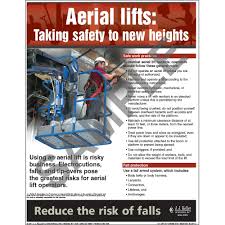 6. Inspect engine or motor operation.
7. Inspect steering and maneuvering.
8. Familiarize yourself with visibility.
9. Inspect basket or platform capacity and equipment stability.
10. Complete and document the inspection process using the appropriate inspection form (in "Attachments").
11. Check fuel and/or charging of batteries, and refuel/recharge as needed.
12. Review and understand equipment operating limitations.
13. Review other operating instructions, warnings, or precautions listed in the operator's manual for the types of AL/EWP that you will operate.
14. Alert all persons in the work area of intended work activities and hazards.
15. Always face the direction of travel.
16. Don"t travel horizontally with the platform elevated or extended.
17. Don"t exceed the basket or platform capacity.
18. Position equipment on a firm level surface and minimize blocks or ramps for leveling the AL/EWP equipment.
19. Always set outriggers prior to use if the AL/EWP is equipped with them.
20. Wear proper safety harnesses and only tie-off to the work platform"s fall protection tie-off point. (Refer to "Types of Lifts" and the Inspection Forms in the "Attachments" to determine if safety harnesses are required to be worn.)
21. "Barrier off" the lift swing work-area below the AL/EWP equipment"s work zone.
22. Don"t climb on guardrails,climb on ladders or stand on other items when working on the platform.
23. Practices good housekeeping when working in and around the platform.
24. Never drop or throw objects to or from the work platform.
25. Always look below platform and confirm it"s safe to lower the equipment before lowering theequipment.
26. Never lean the platform on or against structures.
27. Never use the boom to push against something, or try and pull the AL / EWP equipment along in a horizontal direction.
Responsibilities:
Must implement and administer the Aerial Lift Safety program.
Review the Aerial Lift Safety program annually for compliance and effectiveness.
Verify that all employees who operate or work near aerial lifts are properly trained.
Maintain written records of operator training on each model of aerial lift and the name of the trainer.
Maintain written records of all inspections performed by the aerial lift owner, including the date any problems found, the date when fixed, and the name of the person performing the repairs.
Maintain written records of the name and purchaser of each aerial lift.
Make recommendations for revisions if necessary.
Establish expected operating conditions for aerial lift and send to OHS to review prior to operation
Supervisors:
Coordinate employee training, and certify that all operators receive annual training including, but not limited to, the items listed in Section 8.0 of this document.
Ensure that only trained and qualified individuals use aerial lifts.
Verify employee compliance with the principles and practices outlined in the Aerial Lift Safety Program.
Provide specific operational training for each aerial lift.
Observe the operation of aerial lifts, and correct unsafe practices.
Operators:
Read the Aerial Lift Safety Program.
Complete the Daily Pre-Use Inspection Checklist before operating any aerial lift.
At least annually review the procedures outlined in Section 6.0 of this document.
Observe the operation of the aerial lift, and report unsafe practices to your supervisor.
Occupational Health and Safety Coordinator:
Annually review and update the Aerial Lift Safety Program as necessary.
Provide orientation and initial training as requested by university departments and/or contractors.
Provide the general safety training requirements for program.
Monitor the effectiveness of program by receipt of copies of inspection checklists.
Evaluate designated areas for aerial lift use.
Define appropriate eyewash facilities for battery changing/charging areas.
Observe the operation of aerial lifts, and report unsafe practices to the appropriate supervisor.
Aerial Lift Procedures:
Pre-Use Inspection:
Prior to the operation of any aerial lift the Pre-Use Inspection Checklist found in bottom of attachment must be completed. This applies at the beginning of every work period, and whenever a new equipment operator takes control of the aerial lift.
Any safety defects (such as hydraulic fluid leaks; defective brakes, steering, lights, or horn; and/or missing fire extinguisher, lights, seat belt, or back-up alarm) must be reported for immediate repair. They must also be locked and tagged, and taken out of service.
General Safe Work Practices:
Operators shall not wear any loose clothing or any accessory that can catch in moving parts.
Before machine is started, the operator must walk completely around the machine to ensure everyone and everything is clear of the machine.
Articulating boom and extendable boom platforms, primarily designed as personnel carriers, shall have both platform (upper) and lower controls. Upper controls shall be in or beside the platform within easy reach of the operator. Lower controls shall provide for overriding the upper controls. Controls shall be plainly marked as to their function. Lower level controls shall not be operated unless permission has been obtained from the employee in the lift, except in case of emergency.
Modifications and additions that may affect the capacity or safe operation of an aerial/scissor lift are strictly prohibited without the manufacturer's written approval. Capacity, operation, and maintenance instruction markings will be changed as necessary if the manufacturer approves a modification.
The insulated portion (if applicable) of an aerial / scissor lift shall not be altered in any manner that might reduce its insulating value.
Any signs, plates, or decals which are missing or illegible must be replaced.
If the aerial / scissor lift becomes disabled, a "out of service" tag or equivalent shall be attached to the controls inside the platform in a conspicuous location.
Aerial/scissor lift devices with noted, reported deficiencies shall not be operated until repairs are made and equipment is authorized for use.
Operators must report all accidents, regardless of fault and severity, to their Supervisor.
Safe Work Practices Before Operation:
1. Consideration shall be given to the amount of wind. Follow the manufacturer's instruction regarding operation in windy conditions. As a general rule aerial lifts shall not be operated in winds exceeding 25mph although this can vary depending on the model of equipment.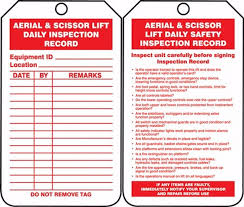 At 20mph wind speeds or anticipated gusts, lifts will be lowered to a maximum height of 20 feet.
At 25mph wind speeds or anticipated gusts, lifts will be grounded.
If at any time, video personnel/staff feels unsafe in lifts, they may make decision to ground the lifts and cease with videotaping games or practices…no questions asked.
2. Guardrails must be installed and access gates or openings must be closed before raising the platform.
3. Boom and platform load limits specified by the manufacturer shall not be exceeded.
4. Before moving an aerial lift for travel, the boom(s) shall be inspected to see that it is properly cradled and outriggers are in stowed position (if equipped).
5. Consideration shall be given to the protection of bystanders via barricading, having another employee keep bystanders at a safe distance or by other means.
6. Aerial lifts shall not be operated from trucks, scaffolds, or similar equipment.
Safe Operation During Operation:
1. Attention shall be given towards the direction of travel, clearances above, below and on all sides.
2. Employees shall not sit or climb on the guardrails of the aerial lift.
3. Planks, ladders or other devices shall not be used on the work platform.
4. An aerial lift shall not be moved when the boom is elevated in a working position with employees in the basket.
5. Aerial lift shall not be placed against another object to steady the elevated platform.
6. Aerial lift shall not be used as a crane or other lifting device.
7. Aerial lift devices shall not be operated on grades, side slopes or ramps that exceed the manufacturer's recommendations.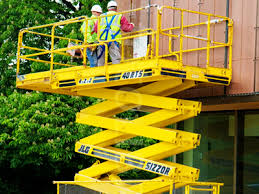 8. The brakes shall be set and outriggers, when used, shall be positioned on pads or a solid surface.
9. Speed of aerial lift devices shall be limited according to the conditions of the ground surface, congestion, visibility, slope, location of personnel and other factors that may cause hazards to other nearby personnel.
10. Stunt driving and horseplay shall not be permitted.
11. Booms and elevated platform devices shall not be positioned in an attempt to jack the wheels off the ground.
12. The area surrounding the elevated platform shall be cleared of personnel and equipment prior to lowering the elevated platform.
13. All equipment must be secured on the inside of the aerial lift.
14. Operators are to call for assistance if the platform or any part of the machine becomes entangled.
Safe Work Practices After Operation:
Safe shutdown shall be achieved by utilizing a suitable parking area, placing the platform in the stowed position, placing controls in neutral, idling engine for gradual cooling, turning off electrical power, and taking the necessary steps to prevent unauthorized use.
Aerial lifts shall be shut off prior to fueling. Fueling must be completed in well ventilated areas free of flames, sparks or other hazards which may cause fires or explosions.
Changing and Charging Batteries:
1. Battery charging installations must be located in areas designated for that purpose
2. Facilities must provided for: flushing and neutralizing spilled electrolyte, fire protection, protection of charging apparatus from damage by trucks, adequate ventilation for dispersal of fumes from gassing batteries.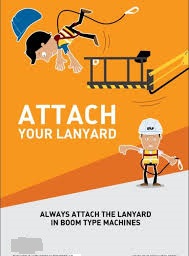 3. Precautions must be taken to prevent open flames, sparks, or electric arcs in battery charging areas.
4. Employees charging and changing batteries shall be authorized to do the work, trained in the proper handling, and required to wear protective clothing, including face shields, long sleeves, rubber boots, aprons, and gloves.
Maintenance:
1. Any aerial lift not in safe operating condition must be removed from service. Authorized personnel must make all repairs.
2. Repairs to the fuel and ignition systems of aerial lifts that involve fire hazards must be conducted only in locations designated for such repairs.
3. Aerial lifts in need of repairs to the electrical system must have the battery disconnected before such repairs.
4. Only use replacement parts that are currently recommended by the manufacturer.
Training Requirements:
Employees who are authorized to operate aerial lifts must receive training prior to engaging in their duties, and at least every three (3) years thereafter. The training is to ensure that the Aerial Lift Safety Program is understood. The supervisor will also ensure that authorized aerial lift operators have acquired the necessary practical skills required for safe operation. Training is offered by Occupational Health and Safety, Rental Company and the department in possession of the lift.The department along with the rental company will perform an operational training with each employee to determine if operators have the knowledge, training, and skills necessary to use the aerial lift. Operational training will consist of a combination of general safety instruction, practical/operational training (demonstrations performed by the trainer, and practical exercises performed by the trainee), and evaluation of the operator's performance in the workplace. All operational training must be conducted under close supervision.
Initial Training:
1. Receive instruction on the intended purpose and function of each control.
2. Prior to operating any Aerial Lift the trainee will read and understand the manufacturer's operating instruction(s) and aerial lift procedures (Responsibilities), or receive training by a qualified person on the contents of the manufacturer's operating instruction(s) and users safety rules.
3. Be informed of the Aerial Lift operating limitations and restrictions as defined by the manufacturer.
4. Understand by reading or having a qualified person explain all decals, warnings, and instructions displayed on the Aerial Lift.
5. During operational training, trainees may operate a aerial lift only under the direct supervision of authorized trainers, and where such operation does not endanger the trainee or other employees.
6. All training and evaluation must be completed before an operator is permitted to use an aerial lift without continual and close supervision.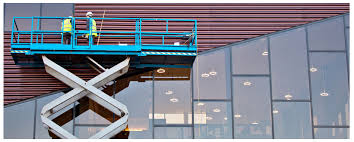 Annual Training:
Must include at least the following
Review of the Aerial Lift Inspection & Maintenance Record
Review of Section Responsibilities – Procedures.
Updated information on new equipment.
Review of company written program.
Training Records:
Each department must maintain a record of all individual training, including:
Name of individual trained.
Name of supervisor or Occupational Health and Safety person providing the training.
Training records must maintained by the department for a minimum of 3 years.
Operator Training / Licensing Procedures:
Each Operator must successfully complete Operator Safety Training prior to operating AL/EWP equipment on property. Operators may only use the AL/EWP equipment type they have been trained and licensed to operate, or when under the direct supervision of persons who have the knowledge, training and experience to train operators and evaluate their competence "in the field". Training is conducted in a location where such AL/EWP equipment operation does not endanger property, the trainee, or others. Departments must arrange for their personnel to be licensed by EH&S to operate AL/EWP equipment.
EH&S ensures that each AL/EWP operator is competent to operate AL/EWP equipment safely and in compliance with OSHA requirements, as demonstrated by the successful completion of the training and evaluation specified below. Training consists of a combination of written, classroom, followed by hands-on "field" training and documented testing that"s specific to the AL / EWP equipment.
Written / Classroom Training:
Written / classroom training includes familiarization with equipment types and components, hazard assessment and mitigation, equipment inspection requirements, and other requirements of this program. Upon successful completion of classroom training, the trainee then takes hands-on training in the field.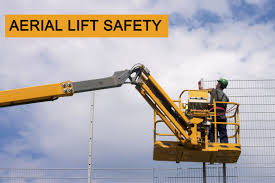 Program Evaluation:
The aerial lift program shall be evaluated on an annual basis utilizing the protocols set forth by Occupational Health and Safety. The evaluation team will consist of a department representative and a designee from Occupational Health and Safety. Occupational Health and Safety will define the scope of the evaluation. The final report will be developed by the department representative and OHS utilizing the information received during the evaluation. The deficiencies determined in the report will be documented and corrective action plans will be developed.
Click the below link to download the inspection form of different aerial lift

Articulated boom lift inspection form
Elevated working platform inspection form
Extensible boom platform inspection form
Trailer mounted aerial lift inspection form
Vehicle Mounted lift inspection form